Training Solution
Strategic Infra Services offers IT training programs and solutions to individuals and corporate sectors. These competent training programs are specifically designed to provide you with the best level of IT knowledge possible.
With cost effective training solutions, Strategic Infra Services brings your way instructors who are certified IT professionals. They possess vast technical knowledge and outstanding communication and teaching skills.
Highlights of our IT training solutions are:
Learn authorized IT training courses such as Microsoft, Cisco, Citrix, Apple, Checkpoint, VMware, Encase, Novell, Red Hat Linux, IBM Lotus, and other leading technologies
Gain knowledge on software applications of your choice, e.g., CRM Platform
Improve your computer or laptop usability to capture data
Embrace newest technological skills in the block
Increase your awareness on business skills that includes data entry, time management, customer service, etc.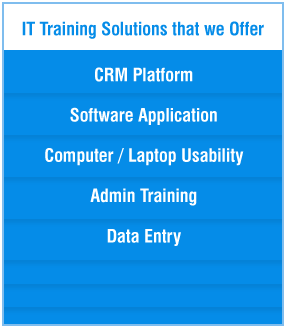 Through our integrated training solutions you will:
Improve your job skills by gaining in-depth technical knowledge
Become more efficient and productive
Rub shoulders with competent professionals as trainers
and instructors
Experience cost-effective training sessions
Enjoy effectively managed processes
Get assured delivery of quality knowledge
Want to enjoy the experience of an interactive learning experience? Click here to Contact Us