IT Infrastructure Solution
Strategic Infra Services provides best-in-class IT infrastructure support, services and methodologies aligned to our client´s business. From improving back-end process to supporting mission-critical infrastructures, we help Government Organization to SMBs in their most persistent IT infrastructure.
To meet these challenges, Strategic Infra Services offers focused solutions for building and managing your entire IT infrastructure needs. With our constant IT support, you can concentrate on critical business issues while we do all the hard work.
Key IT Infrastructure Outsourcing Services include:
Networking Services
VoIP Solution
Web operation
Desktop Management
Client/Server Management
Network Maintenance
Service Desk Support
Customized IT Support Services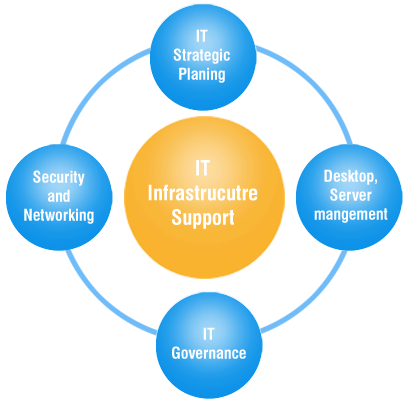 Infrastructure Solutions
When it comes to IT infrastructure support, many businesses use our back-end support which is swift, innovative and manages IT risk. Our full-scale IT Infrastructure services are used by companies and organizations to:
Secure data with technology and technical expertise
Automate existing manual process
Ensure the quality of IT equipments and networks protocols
Reduce operational costs with secure, reliable networking
Equip mid-sized companies with the latest IT infrastructure
Want to transform your IT infrastructure and improve responsiveness? Click here to Contact Us