AMC
Keeping your complex IT systems up and running at peak productivity can be challenging and expensive. As a trusted IT support provider, Strategic Infra Services provides uninterrupted support services for all your IT hardware needs. Our fast, efficient and cost-effective AMC services keep your computer systems and networks at peak performance throughout the year.
To meet these challenges, Strategic Infra Services offers focused solutions for building and managing your entire IT infrastructure needs.
The highlights of our services:
Remote and on-site hardware support, diagnosis
Software troubleshooting for data center and applications, OS and firmware
Daily back-up of mission critical data
Maintenance of user accounts and permissions
Software support, configuration, deployment, upgrades
Network operations and monitoring
Training and certification for your IT staffers
Regular preventive maintenance
Get 24/7 emergency support for any hardware or software problem.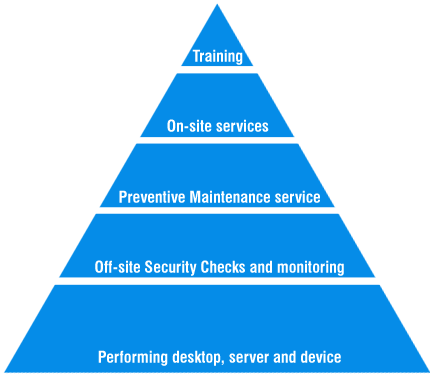 Our experienced IT hardware specialists ensure 'end-to-end' resolution to your problem related to IT systems. The AMC service contract includes regular maintenance for all systems and adhoc requests. We sort out all problems through quick remedial process. Here are your AMC service benefits:
Increased business productivity due to improved uptime
Reliable response times and predictable repair times
Enhanced IT productivity by planned repairs & updates
Reduced need to depend on multiple vendors
Want to reduce downtime by 70% with 24/7 Support? Get a quick fix for all your IT hardware needs with us. Click here to Contact Us